This entry is part of the 52 Ancestors in 52 Weeks series. This week's prompt is Military. To see other posts in this series, view my 52 Ancestors in 2019 index.
---
Memorial Day honors our veterans who made the ultimate sacrifice of their lives for our country. This week I want to focus an ancestor who came close to dying during his military service — my 3x-great-grandfather John Johnston who spent a year as a Civil War prisoner of war.
---
My 3x-great-grandfather John Johnston was born about 1824 in Mississippi. His parents were probably Wiley Blount Johnston and his wife Harriett.
Little is known about John's childhood. By 1840, his family lived in Leake County, Mississippi. He married Malinda McCauley, daughter of John McCauley, Jr. and Mary Jane Wells, also of Leake County, on January 30, 1844. They were married in the town of Philadelphia in neighboring Neshoba County.
John and Malinda made their home on a farm in Leake County. The couple soon added two children to their family: Harriett in 1845, and George in 1847. John patented 80 acres of land just north of the present-day community of Harmony on October 1, 1859.
When the Civil War erupted, John Johnston, then age 37, enlisted in the Confederate cause as a private in Company E, 24th Mississippi Infantry. He joined on September 15, 1861, at Camp Helen in Madison County for the war's duration.
I wrote about John's Confederate military service back in 2016, including an analysis of his muster roll cards as compared to his unit's recorded movements. I won't repeat all those details in this post; instead, I will summarize John's service and some key facts. We'll also take a look at what he experienced as a prisoner of war.
The majority of Confederate soldiers were under 30 years of age. At 37 years old, John was probably one of the oldest men in his unit, especially among the privates. Nonetheless, the early years of the war saw John engaged in typical soldier activities — drilling, marching, enduring camp life, and engaging in occasional battles.
The 24th Mississippi spent time in Fernandina, Flordia, guarding the coast against the Union navy, and moved into Tennessee in March 1862 once the Confederates abandoned this area. John saw action at the First Battle of Corinth in April and May 1862. After this battle, John began taking on assignments as a teamster. His duties included driving wagons in the long supply trains and also caring for the livestock used to pull the wagons.
I wonder if John's age was a factor in him being assigned teamster duty. If so, it may have saved his life. While John was absent on teamster duty, the 24th Mississippi fought at the Battle of Perryville, one of the bloodiest battles of the war, on October 8, 1862. They also saw action at the Battle of Stones River (also known as the Second Battle of Murfreesboro) from December 31, 1862, to January 2, 1863. John remained on teamster duty throughout this period and was specifically part of the "Pulaski Team" near Shelbyville, Tennessee, in April 1863. Teamster duties also kept John from the Battle of Chickamauga in September 1863; this battle had the second highest number of casualties, only surpassed by Gettysburg in number of deaths.
John's teamster assignments seem to end in October 1863, and he rejoined Company B of the 24th Mississippi. By November, his unit was camped at the slopes of Lookout Mountain near Chattanooga, Tennessee, and they saw intense fighting on November 24, 1863, in the Battle of Lookout Mountain. A remnant of the 24th Mississippi also fought in the Battle of Missionary Ridge the next day. After these battles, John and the 24th Mississippi made winter camp at Dalton, Georgia.
The spring brought renewed fighting, and the 24th Mississippi sustained heavy losses at the Battle of Resaca on May 14 – 15, 1864. Sometime during the fighting, John was slightly wounded and captured by the Union army. John appears on a register of Prisoners of War compiled by the Union Army's Department of the Cumberland at Nashville on May 15. Four days later, he was received at the military prison in Louisville, Kentucky. John arrived at his final destination on May 22: Camp Morton in Indianapolis, Indiana.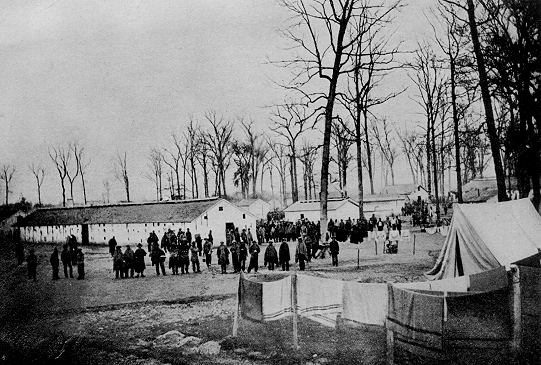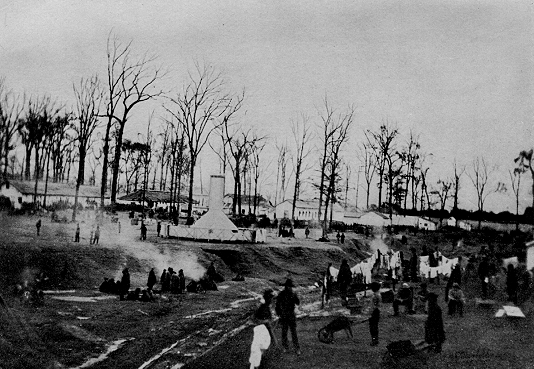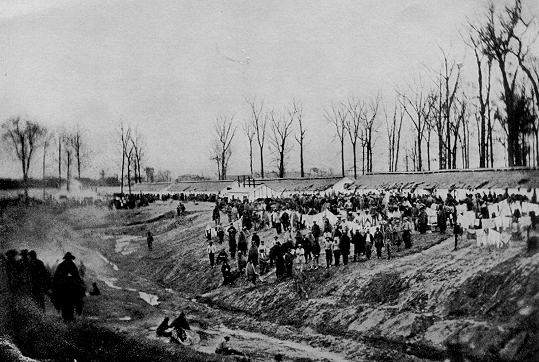 Camp Morton was one of the largest of the Union's eight POW camps. When John arrived, Camp Morton was overcrowded and badly needed repairs. The best description of the facility and state of its prisoners can be gathered from a letter written by Dr. Thomas E. Spotswood of Fairford, Alabama. He wrote about his experiences in Camp Morton, and his letter was reprinted by the Memphis Commercial in 1891. What is most intriguing about Spotswood is that he was captured at the Battle of Resaca on the same day as John Johnston and seems to have been in the same group of 40 prisoners!
A few highlights from Spotswood's letter:
Our ration of bread (one small loaf) came at 11 o'clock, and a small piece of meat at 12 o'clock. We usually ate it as soon as received, and then drank as much water as we could hold, and tried to imagine we had had a full meal. Another reason for eating it at once was to save it from being stolen…
I remember seeing a man kill an old black cat and cook it in a tin can picked up near the hospital kitchen. I was offered a share in the feast, but declined, as I drew the line at rats and cats, though I offered ten cents for a small piece of dog, and was unable to buy it, as the possessor said he had none to spare.
During the first three months of our incarceration…twenty-five per cent of our men had died of the various prison diseases.
…neither ditches nor guards would have prevented our gaining freedom, but for the traitors among us, who for an extra ration would give the officers information that frequently led to recapture, punishment, and sometimes death. Often the dungeon and extra starvation were resorted to in these cases…
…the dreadful month of January, 1865, when we suffered most from the terrible cold. We were unable to remain outside but a few moments, as our clothing and shoes were thin and in rags, so we were forced to trot round in circles on the mud floors of our pens, made soft by the snow brought in on the feet of the men. These trotting circles of men would last all day, new men taking the place of those dropping out from exhaustion.

Men died constantly, seemingly without a cause. They would appear less cheerful and less interested in life, and next morning, when summoned to roll-call, would be found dead, either from starvation or cold, God only knows which.
One night I saw through a crack in the stable eight or ten men being drilled in the snow with a shoe in each hand, this being for the amusement of the new guard and for punishment to the prisoners for talking after going to bed.
There was an order issued by the commanding officer that the men should not remain in barracks…from 9 o'clock A.M. until 3 o'clock. Poorly clad, starving men were compelled to stand around in the snow until hundreds had their feet so badly frost-bitten that their toes came off. This cruel order was persisted in till many men died from exposure…
Yet John Johnston survived these atrocities. After General Robert E. Lee's surrender — and a year to the day from his arrival at Camp Morton — John was released from prison on May 22, 1865. He was among the last groups of prisoners remaining at the POW camp.
John returned to Leake County, Mississippi, arriving home on June 7, 1865. It must have been difficult recovering physically and mentally from his time as a POW and also working to recover his livelihood as a farmer. But somehow he did it. John and Malinda remained in Leake County until the mid-1870s when they migrated west to Winn Parish, Louisiana. By this time, both their children had married and started their own families, but John and Malinda took in their grandson John Thomas Horne and two of Malinda's nephews, Charles and Landrum Ryals. In his old age, these three boys likely helped John with farm labor. John and Malinda moved once again after 1890, to Sunflower County, Mississippi, with their grandson John Thomas Horne and his family.
John died on August 5, 1898, in Belzoni, Sunflower County, Mississippi, and is buried somewhere in Yazoo County. He was 74 years old.
---
(Citations to Follow)