Because my recent research has focused on Mary Smart McMurry, I decided to obtain her husband John McMurry's federal land records. I needed to expand my "reasonably exhaustive research" — a tenet of the Genealogical Proof Standard — to her closest male relative in the absence of records for Mary. John patented approximately 160 acres in Gaar's Mill, Winn Parish, Louisiana, in 1898. His land patent application could give more clues about his family structure, including Mary's origins or her date of death.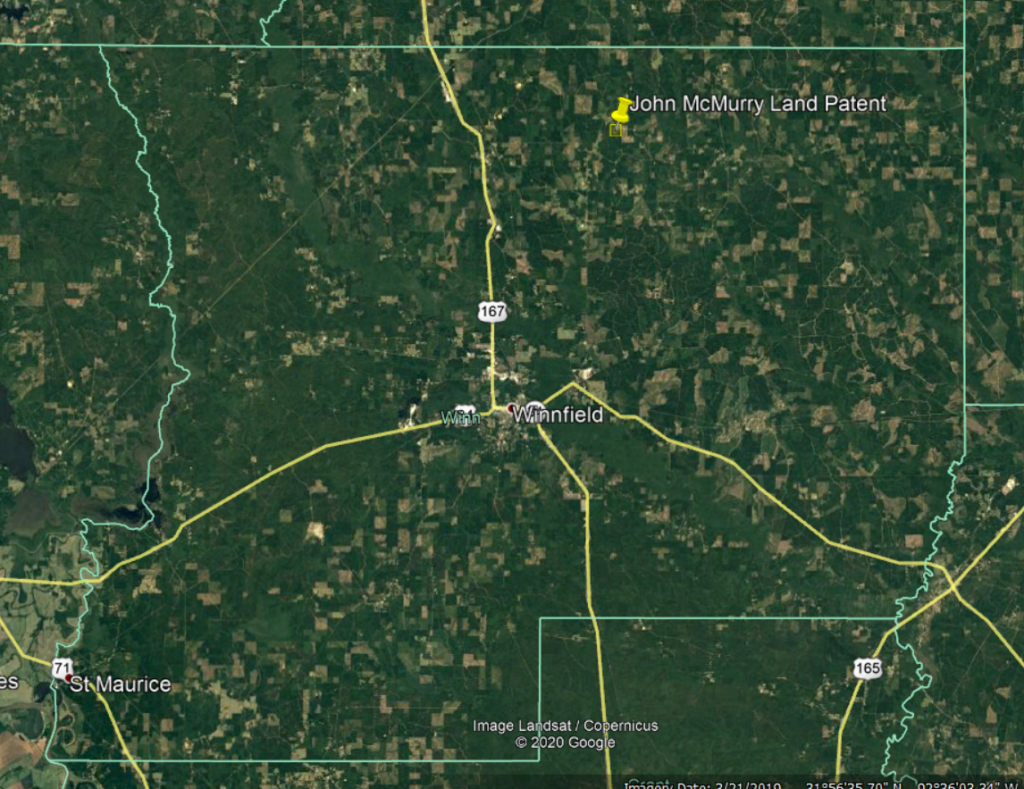 So I hired my first NARA researcher to retrieve the records. Brian Rhinehart from Rhinehart Roots was easy to work with — affordable, professional, and quick. He goes to DC almost monthly, and I placed my order with him while he was on a research trip. Because of this great timing, I received his photographs of John McMurry's homestead application within 24 hours!
Although I'd heard of researchers finding some real gems in homestead applications (like birth records ripped from the family Bible or detailed drawings of cabins), I tried to keep my expectations low. This was my ancestor after all, and I rarely get so lucky with my own family. I was right. John McMurry was an illiterate farmer, and whoever completed the paperwork did the absolute minimum. John signed with an "X" — his mark — on the signature lines.
John's land patent file contained several documents:
Homestead Application No. 12547, filed 22 August 1898, approved 5 November 1898, and patented 1 December 1898
Final Receiver's Receipt for the $5 fee John paid for recording the land transaction, dated 22 August 1898
Testimony of Witness – James Thomas Kelley of Gaar's Mill, Louisiana, dated 20 August 1898
Testimony of Witness – Columbus Jackson Hammons of Gaar's Mill, Louisiana, dated 20 August 1898
Testimony of Claimant – John McMurry of Gaar's Mill, Louisiana, dated 20 August 1898
Final Affidavit Required of Homestead Claimants, dated 20 August 1898
Original Homestead Application, filed 25 August 1890
Receiver's Receipt for $14 fee John paid for recording original application
Homestead Affidavit, dated 18 August 1890
Posting of Notice form dated 22 August 1898 with a newspaper clipping from the Southern Sentinel on 15 July 1898 attached
Listing of witnesses
The most genealogically useful of these documents were the Homestead Affidavit (1890) and Testimony of Claimant (1898). Here's the new information I learned from these documents:
Homestead Affidavit (1890) – Key Findings
John was a "native citizen" of the United States. Because of the lack of records for him before 1880, I've recently wondered if John could have been an immigrant. This document negates that theory.
John and his family began settlement of the homestead on 2 December 1888. This date is eight days before the birth of my great-grandfather George Washington McMurry. I wonder how a very pregnant Mary Smart McMurry felt about starting their homestead in her condition. Was she miserable with all the work she had to do while heavily pregnant and, after the birth, with a small infant? Or was she excited they finally had a place that would one day be theirs?
The homestead consisted of a plank house, corn crib, and about 7 acres of cleared land. I'm familiar with this hilly, wooded area, and any cleared land means John had done much work removing timber and undergrowth.
John was of "limited means" and filed the application in the parish seat of Winnfield. He lacked the financial ability to travel to New Orleans.
Testimony of Claimant (1898) – Key Findings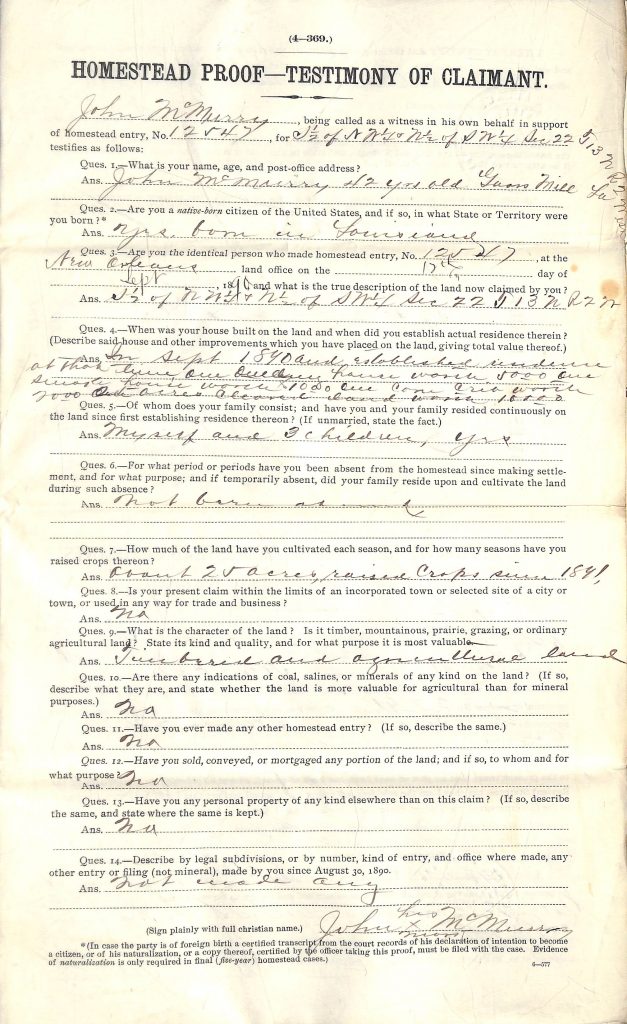 John provides secondary information about his age: 42 years. He was likely born in 1856.
John states he was born in Louisiana.
John states he and his family began residence on the land in September 1890. This date is two years after the date he provided on the original affidavit. Did the family live somewhere else while John cleared land and built their home?
In the eight years since the first affidavit, John has cleared more land and built other buildings. His improvements include a dwelling house worth $50, a smoke house worth $10, a corn crib worth $20, and 25 acres of cleared land.
John states his family consisted of himself and three children. His answer indicates Mary Smart McMurry died sometime before 20 August 1898.
John's first crops were harvested in 1891.
Although I didn't get fancy Bible pages or drawings of John's home, I'm very pleased with the information I learned in these records. I've narrowed down the possible death date of Mary Smart McMurry by two years. I also have a more accurate birth year and place for John McMurry. I have four new names of John's "FAN club" — the four witnesses he listed in his application. A quick search of their records show three were affiliated with Harmony Grove Baptist Church — and that lends credibility to the "J. Mack Murry" in the church records being my John McMurry.
But more than anything, I'm more familiar with homestead applications and how to hire a NARA researcher — both very important skills!