This entry is part of the 52 Ancestors in 52 Weeks series. This week's prompt is AT THE COURTHOUSE. To see other posts in this series, view my 52 Ancestors in 2019 index.
---
Although genealogy interested me at a young age, I didn't pick up this hobby — okay, obsession — until the internet made record access easy. I spent my early years researching from home in my pajamas, thinking all the documents I'd ever need were online. Oh, how wrong I was! As my skills improved and I moved onto more challenging research, I learned the records needed to solve difficult problems are rarely online. The most helpful evidence is often squirreled away in libraries or located at county and parish courthouses.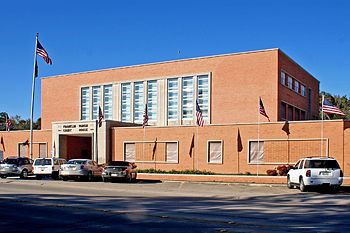 I visit courthouses around northeastern Louisiana almost every time I travel home. Because the past four generations of my family have lived in Liddieville, I spend a good deal of time at the Franklin Parish Courthouse in Winnsboro, Louisiana. The parish has not experienced any record loss since it was organized in 1843, so over 175 years of documents are available at the Clerk of Court's office. Marriage, land, probate, civil court, and criminal court records — it's all there. And none of it is digitized. Researching in rural courthouses like these means skimming through huge, musty-smelling books, asking staff to retrieve boxes from storage, and then personally digging through those boxes of original court documents. I love it!
One of my first big finds at the Franklin Parish Courthouse was a succession that provided death dates for two key individuals in my family tree: William Silas Johnston and his wife Amarentha "Alma" Smart.
Continue reading

William Silas & Amarentha Smart Johnston: Courthouse Research Uncovers Death Dates