The annual Family History Conference for the Texas State Genealogical Society (TxSGS) was held October 11-13 in Houston. After attending my first conference last year in San Antonio, was there any question I would attend again? Nope — especially with the event practically in my backyard!
I had a great weekend of immersing myself in genealogy education, catching up with old friends, and making new contacts, too. I volunteered with box lunch distribution and also at the Clayton Library Friends' book sale booth.
Attending the conference as "not a newbie" was a different experience. I didn't have the same giddy excitement as last year because — after a year's involvement with TxSGS — I knew the high-quality experience to expect from our state organization. (Maybe that means I'm now a little bit spoiled…?) I knew better what to anticipate and how to choose sessions and topics that match my professional development needs.
Some of my favorite sessions were the ones that gave me concrete ideas and action plans for my research. "Applying Family Naming Traditions to Your Genealogical Research" by Bernard Meisner opened my eyes to how I should consider naming order and middle name selection in breaking brick walls on my McMurry and McKaskle lines. I previously thought naming conventions applied only to northern families or new immigrants, but these conventions can apply to any ethnic group. I love a good case study, and David Passman's "Who Are Charles L. B. McCrory's Parents?" did not disappoint. His research was done for his step-mother's DAR application, so the types of records he used for proof arguments were all ones I can utilize for my future supplemental applications. I also highly enjoyed Ari Wilkins's "Reconstructing Communities Using Genealogical Resources." She uses Google Earth Pro in a similar way as I do — but in urban areas which fascinated me. Ari gave me lots of ideas on how to add photos to my map research and share those maps with others.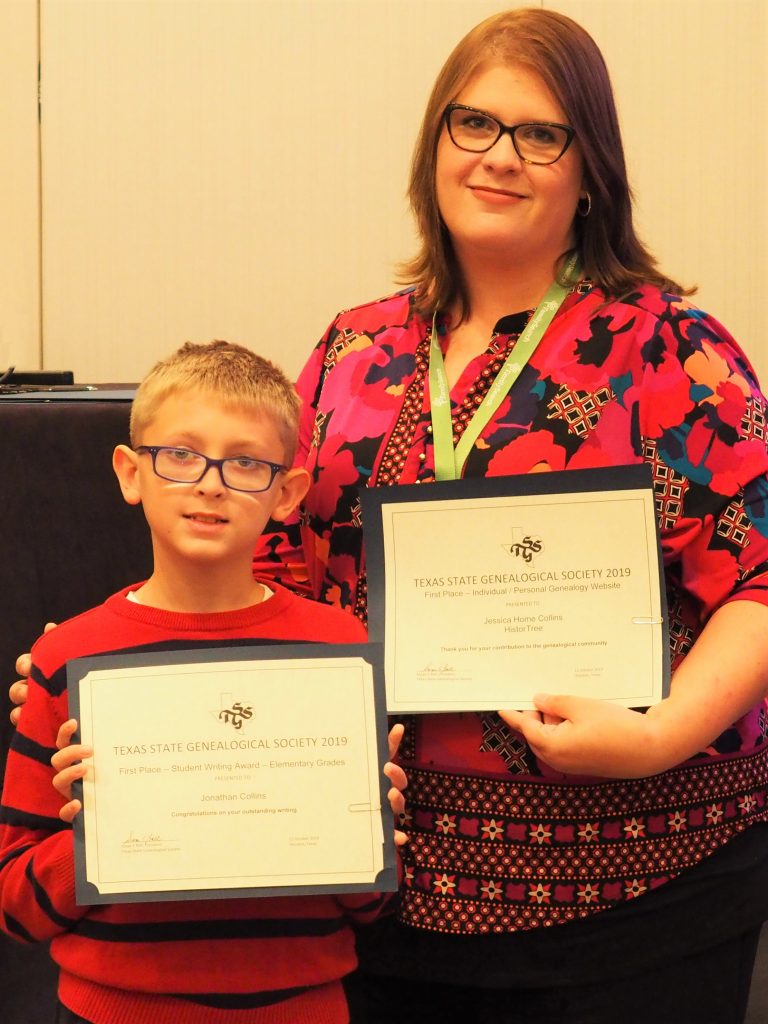 I attended the awards banquet this year because my son Jonathan and I both had submissions in the Awards Program. My blog won first place in Category II: Website for an Individual (Personal Genealogy), and Jonathan won first in Category VII: Student Projects (Elementary Grades 4-6). The quarterly journal Stirpes is actually running an article about us in the next issue because we are the first parent and child to win in separate categories at the same conference!
I'm super proud of Jonathan. He spent two weeks this summer preparing a four-generation pedigree chart, four family group sheets, a map, and an essay with photos about his grandfather's life. He received a $100 prize and — like any 10 year old — it was spent by the next weekend.
My friend Teresa won the door prize drawing and received a complimentary registration to TIGR 2021. I won the other door prize and now have a "guaranteed early-bird registration pass" to the same event. I probably would have decided about TIGR before that deadline, but it's definitely something I can wave in front of my husband and say, "I have to go — I have a coupon!"
Most of all, attending the conference was a marker in how far I've come with my genealogy education in the past year. It showed me how much I've improved and learned — and learned I need to improve! — since I made a commitment in moving toward this pursuit as a profession. Here's to another year of continued progress!