Acquiring the Alexander Rose Hendry letter has been the highlight of my 2019 genealogy year. Once the letter arrived in September, I opened it only once — then I avoided touching it until I could take the correct steps in preserving it.
That's when it pays to have an archivist friend. I met Rachael Altman, Director of the Carnegie History Center in Bryan, Texas, at the Texas Institute for Genealogical Research (TIGR) this summer in Austin. We were both in the Advanced Southern Research track. I remembered Rachael's role at Carnegie included archiving photographs and documents, so I consulted with her about the best way to care for my new-found family heirloom.
Rachael recommended an archival sleeve from Gaylord Archival. I bought a 4-mil polyester envelope that is sealed on three sides so the letter could be preserved unfolded in its entirety. To fit the letter, I had to purchase the 11″ x 17″ size. Paper from this era is not sized to the same standards we have today, so the letter isn't to the edges of the archival sleeve and has some wiggle room. If my budget were unlimited, I could have a special sleeve constructed to its specific measurements — maybe a future improvement?
Rachael was in town for the Texas State Genealogical Society's annual conference in October. We met the evening before the conference at Clayton Library, and Rachael did the work I was too unnerved to do myself — carefully unfolding the letter, attempting to remove the tape, and flattening the document inside the envelope.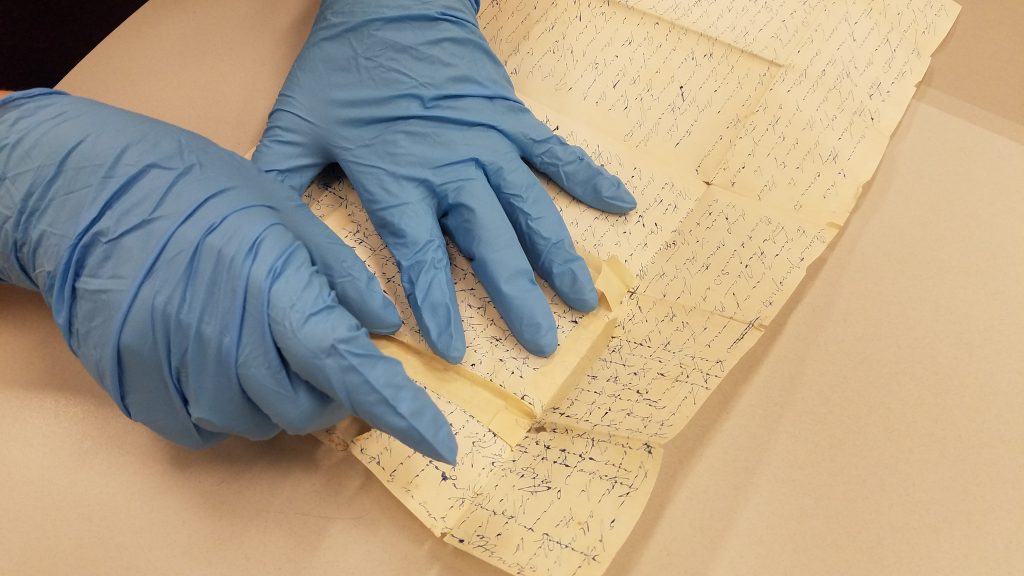 Unfortunately, Rachael did not have the tools with her to remove the tape, but she did get the letter into the sleeve without any of the fragile folds tearing. She also showed me some techniques for using a smartphone camera to isolate and closely zoom to troublesome sections of the letter for transcription.
The letter in its archival sleeve needs to be stored flat, so my next step is ordering an acid-free box.
Once we were able to examine the letter more closely in the sleeve, we realized the seller had transcribed the date incorrectly. The letter is dated January 22, 1855 — not 1845. I'm currently working on transcribing the entire letter. Stay tuned for the results. It's a slow process, but one I feel will be very rewarding.
Thanks so much for your help, Rachael! You've helped preserve a piece of 165-year old family history for my Hendry family.