Last fall I found my first family artifact on eBay: a letter written by my 4x-great-grandfather Alexander Rose Hendry in 1845! It was expensive, so I attempted a transcription with just thumbnail photos and eBay's zoom functionality. Although challenging, I managed to figure out a fair amount of the letter's contents.
I've thought about that letter many times over the past year, still wishing I could own it myself. Then a few weeks ago, I wrote a check for one of my son's extracurricular activities for the same amount as the eBay listing and thought to myself, "Isn't genealogy my extracurricular activity?" And I bought the letter. Of course, frugal me contacted the seller at her brick-and-mortar storefront and negotiated a slightly better price — and then spent all the savings on museum-quality archival sleeves.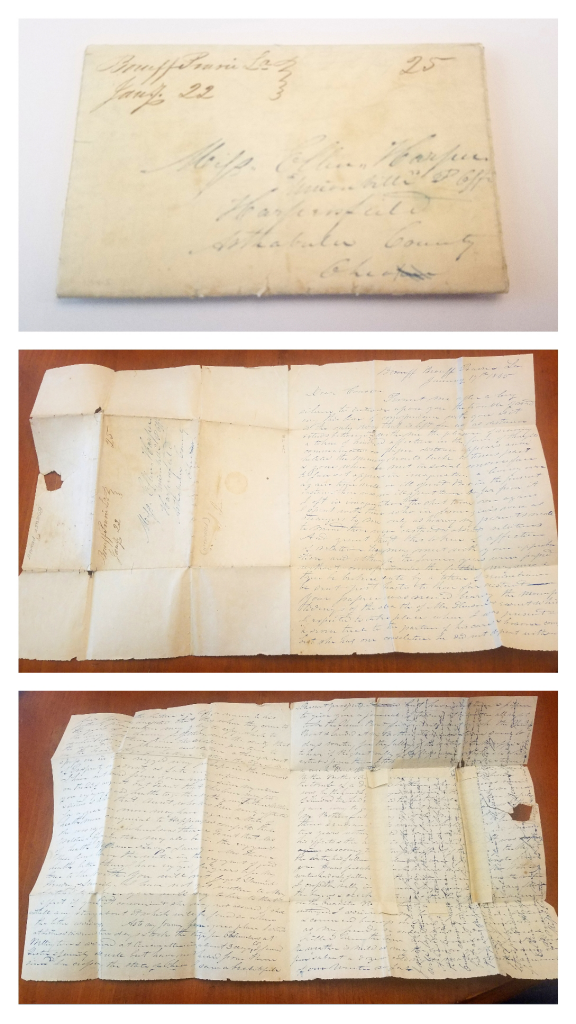 The Hendry letter arrived in the mail today, and I cannot explain the thrill it is to hold a letter written by my own ancestor! It is fragile, but in wonderful condition for being almost 175 years old. I'd originally thought the letter was two individual sheets of paper, but Alexander actually folded a paper roughly 11 inches by 17 inches in half and wrote on it booklet style. He then folded it into ninths and closed with a wax seal. The seal did not survive to the present day, but I can see where it was from an oily imprint on the paper. Some tape holds together the edges that formed the envelope. This tape prevented me from fully transcribing the letter from photos, but it is more transparent in person. I'm hoping I will be able to decipher more of the letter now that I can examine it more closely.
But, for now, I'm avoiding manipulation of the paper. Rachael Altman, archivist with the Carnegie History Center in Bryan, Texas, will be helping me encapsulate it when she's in town for the Texas State Genealogical Society (TxSGS) conference next month. We met at TIGR 2019, and I'm so glad she's willing to lend her expertise to this project. I plan to take photos of the process and document here — and maybe write an article for Stirpes, the TxSGS quarterly, about it also.