Joining the Daughters of the American Revolution (DAR) has been on my genealogy "bucket list" for awhile. I've discovered eight Patriots in my family tree, and joining DAR is a way I can honor their service, while also serving my community. The genealogist in me wanted the challenge of proving my research and having it accepted by an official organization. And one final, important push was my friend Charity. She joined DAR last year and invited me to her chapter's anniversary luncheon. It was filled with people who shared my love of country, history, and genealogy — and that's when I knew DAR was for me.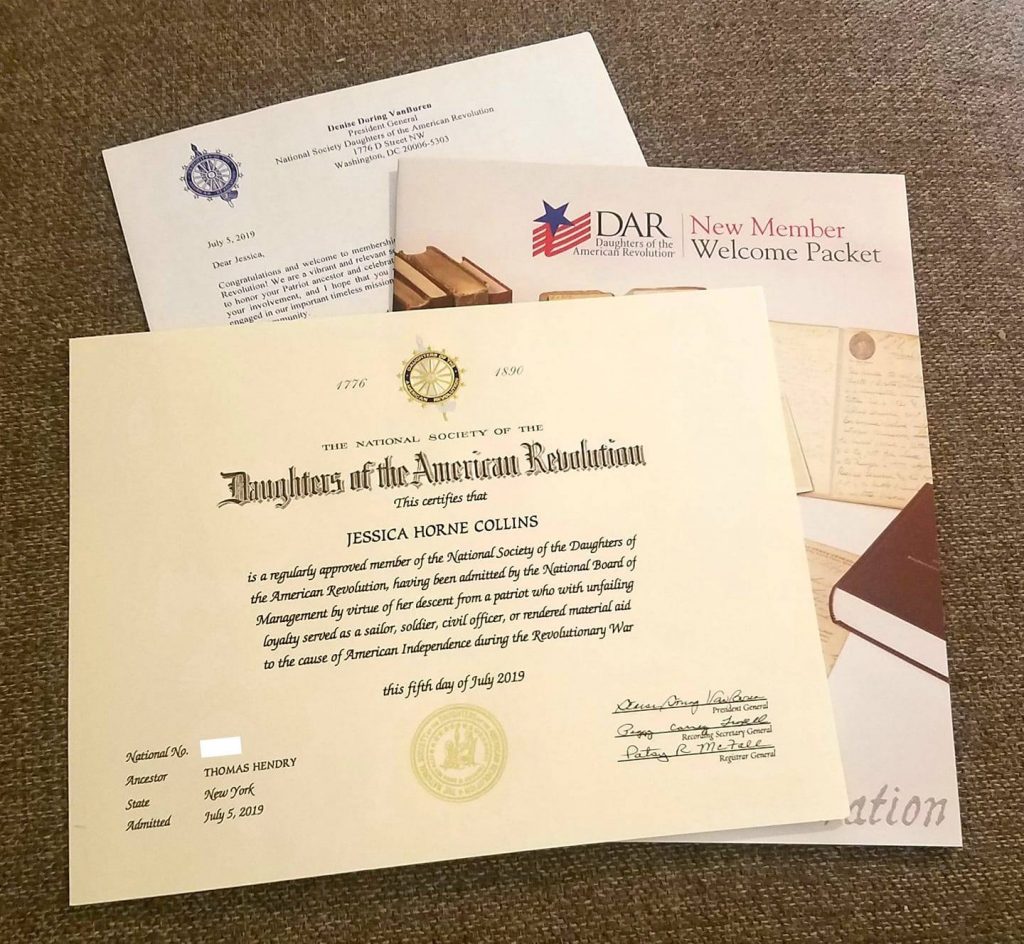 Living in Houston means I have several DAR chapters I could join, so I spent the spring attending various chapters' functions, searching for a good fit for my schedule and personality. While I looked for a chapter, a member of the Texas DAR state application team assisted with my genealogy research. Although I collected my own documents and evidence, Susan bridged the gap between my research and DAR's requirements. (And after this process was over, I ran into Susan at TIGR 2019 in Austin!)
Susan is also trained to determine which of my Patriot ancestors would be easiest to prove, resulting in an smooth and fast application process for new members. Although I'd wanted to use John Hendry as my Patriot, Susan discovered his service records needed additional work; John's father Thomas did not have the same issues, so we used him as my Patriot. Susan was also able to see from DAR records that another Hendry descendant joined a few years ago. We were both descendants of John Manning Hendry and Jane Tucker, which meant I only needed to connect my research to hers — just five generations! (The first three generations of her record are anonymous to me, but it seems my "cousin" and fellow Daughter is a great-granddaughter of Jessie Clayton Winters and Girlie Ann Goodwin of Fort Necessity, Franklin Parish, Louisiana. So close to home — I need to find her!)
As mentioned above, I only had to complete five generations of research. For myself, my parents, and my grandparents, it was simple — birth certificates, marriage licenses, and death certificates, if applicable. My fourth and fifth generations predated issuance of birth certificates in Louisiana, so we used the 1900 census as evidence of birth dates and relationships to parents. My fifth generation also included tutorship records to prove a parental relationship that was not directly stated on any other document.
And after visiting three groups, I decided to join the Lady Washington chapter. With approximately 600 members, Lady Washington is the largest DAR chapter in the world — so I was definitely intimidated before visiting. This small-town country girl felt so welcomed when visiting the April meeting, and I had a wonderful time at their May awards luncheon. Lady Washington is very active on the state and national levels, serving as leaders on various committees. Its members are also active in the community, participating in memorial services for veterans, welcoming home honor flights, and probably many more causes I haven't even learned yet. Our fall kickoff is in a couple weeks, and I'm looking forward to plugging in to my chapter, hopefully on the lineage committee or in a records transcription project.