This entry is part of the 52 Ancestors in 52 Weeks series. This week's prompt is AT THE COURTHOUSE. To see other posts in this series, view my 52 Ancestors in 2019 index.
---
Although genealogy interested me at a young age, I didn't pick up this hobby — okay, obsession — until the internet made record access easy. I spent my early years researching from home in my pajamas, thinking all the documents I'd ever need were online. Oh, how wrong I was! As my skills improved and I moved onto more challenging research, I learned the records needed to solve difficult problems are rarely online. The most helpful evidence is often squirreled away in libraries or located at county and parish courthouses.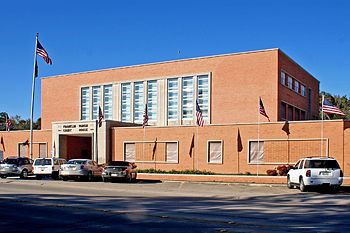 I visit courthouses around northeastern Louisiana almost every time I travel home. Because the past four generations of my family have lived in Liddieville, I spend a good deal of time at the Franklin Parish Courthouse in Winnsboro, Louisiana. The parish has not experienced any record loss since it was organized in 1843, so over 175 years of documents are available at the Clerk of Court's office. Marriage, land, probate, civil court, and criminal court records — it's all there. And none of it is digitized. Researching in rural courthouses like these means skimming through huge, musty-smelling books, asking staff to retrieve boxes from storage, and then personally digging through those boxes of original court documents. I love it!
One of my first big finds at the Franklin Parish Courthouse was a succession that provided death dates for two key individuals in my family tree: William Silas Johnston and his wife Amarentha "Alma" Smart.
---
William Silas Johnston and Amarentha "Alma" Smart are not my direct ancestors, but they intersect with my paternal family in many ways.
Connections to William Silas Johnston:
Connections to Amarentha "Alma" Smart:
She is probably my 2nd-great-aunt and 3rd-great-aunt, the hypothesized sister of my great-grandmother Georgia Smart and 2x-great-grandmother Mary Smart.
After William Silas's death, she married my 3x-great-grandfather James Monroe McKaskle.
William Silas and Amarentha's family weave into my family tree in other ways, too:
Their son Andrew married Martille McKaskle, daughter of James Monroe McKaskle, mentioned above. Andrew and Martille took in my grandmother Ethel for several months after she was orphaned in 1932, as Martille was her maternal aunt.
Their son Hardy married Nettie Wright, granddaughter of — here's that same guy again — James Monroe McKaskle.
Because of these McKaskle connections to my grandmother Ethel and living near one another in the same community, my father's family grew up considering the Johnstons their extended family. We even attended the Johnston Family Reunion — the annual gathering of William Silas and Amarentha's descendants — for many years.
Until I dug into courthouse research, I did not have death dates for William Silas or Amarentha. I suspected William Silas died sometime after the birth of Mamie, his final child with Amarentha, in 1905, but before 1910 when Amarentha appears in the census as the wife of James Monroe McKaskle with her minor Johnston children living in the same household. Amarentha's death date was after this 1910 census, but before James Monroe McKaskle married third wife Alma Bridges in 1918.
My ranges were correct, proven by succession documents found at the Franklin Parish Courthouse. Frank appeared before a judge on September 6, 1924, petitioning the court to divide his deceased parents' estate among their five surviving children: Andrew, Frank, Hardy, Wayne, and Mamie.¹ In his petition, Frank states his father died in 1907, and his mother in 1913:
I found two things curious about this petition. First, it did not mention William Silas's children from his first marriage to Harriett Johnston: George Edgar, Albert V., and James Willis. It also was not the only time "heirship [had been] judicially determined." In the same box, I found an earlier succession document — but only the inventory — for W.S. Johnston. It was filed March 7, 1908, in alignment with the death date Frank reported in the 1924 succession.²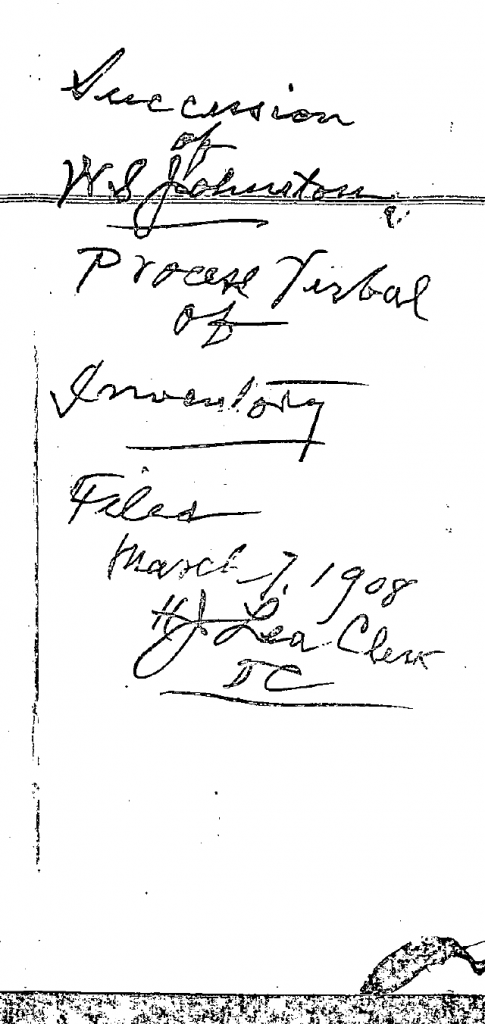 This 1908 inventory included a tedious accounting of everything William Silas owned, all the way down to 13 plugs of tobacco. It also listed debts owed him by friends, family, and neighbors. Two of his sons appear on this list as "A. V. Johnston" and "G. E. Johnston." Without any other documents, I can only surmise William Silas's sons from his first marriage received their portion of his estate in 1908, and his other children divided his remaining property in 1924, years after their mother had died.
Because these documents were bundled in a box with many other probate records from the period, it's likely more documents exist from the 1908 succession. They weren't bound together or filed in any specific order, so papers could easily have been separated. It's probably worth another dig to find the rest of the 1908 succession.
But that's a job for the next time I'm at the courthouse.
---
¹ Louisiana, Franklin Parish, Succession Files, Box 89, unnumbered, Succession of W. S. Johnston, 7 Mar 1908; Franklin Parish Clerk of Court, Winnsboro.

² Louisiana, Franklin Parish, Succession Files, Box 89, Folio 142, Succession of W. S. Johnston and Alma Johnston, 6 Sep 1924; Franklin Parish Clerk of Court, Winnsboro.